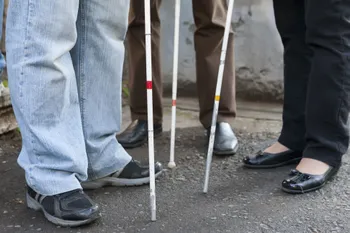 Low vision is a condition characterized by a level of vision that is 20/70 or worse and that cannot be fully corrected with medical treatment, surgery or conventional glasses. Low vision can be due to heredity, an ocular injury, or aging. Some of the most common causes of low vision are macular degeneration, glaucoma, diabetic retinopathy, optic atrophy, retinitis pigmentosa, retinal detachment, albinism and stroke. Regardless of the cause of vision loss, Dr. Paul Greenfield offers patients options that will enable then to use their vision to its fullest potential.
A low vision examination differs from a routine eye exam, which evaluates a patients for glasses. Instead a low vision exam evaluates how to enhance the patient's remaining vision. Dr. Paul Greenfield not only asks the patient about their health history, what medications they are taking, but goes in depth regarding the difficulty a patient may have with glare and light, problems working or going to school, reading, using the computer, issues with peripheral vision and more.
Depending on the patient's condition, there may be the necessity to perform additional testing to assess different aspects of the patient's vision. These tests may include visual field testing, fundus photography, and/or ocular coherence tomography.
After completing the exam, Dr. Paul Greenfield will demonstrate and recommend the appropriate low vision devices and/or vision rehabilitation that may help achieve the patient's goals.
Low vision examinations are often more time consuming than routine eye examinations. Please allow at least one and one-half hours for this examination and bring any magnifiers or glasses you currently use. To schedule a low vision examination with Dr. Paul Greenfield, call (605) 338-7104 today.